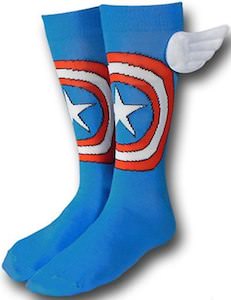 Do you have superhero socks yet?
But do you have Captain America socks with wings?
Now you can have that as these blue socks have little wings on the side.
Beside wings the Captain America socks are blue and have a big shield on it just like the one Captain America uses.
And these Captain America crew socks are one size fits mosts so you are in luck as now you can wear superhero socks to work.
Why would anyone want to wear plain old boring socks when you can have socks with wings that are based on Captain America.
Lets brings wings in to your life by simply getting a pair of Captain America Socks With Wings.