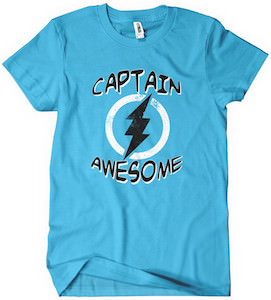 Chuck fan of course remember Captain Awesome and now you can have a t-shirt that just says that.
Devon Woodcomb the brother in law of Chuck of course is awesome so awesome that many call him Captain Awesome.
On this light blue t-shirt you can see the words "Captain Awesome" and a circle with a lightning bolt.
And the whole design of this t-shirt makes it a great reminder of the TV show Chuck.
This Captain Awesome t-shirt comes in men's sizes Small – 5XL and each of them look as great as it would if Devon would wear it.
So lets bring back the memories of Chuck by simply becoming awesome by wearing this Chuck Captain Awesome T-Shirt.