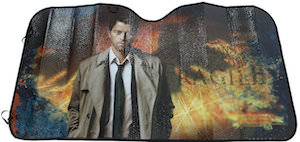 Cars can get really hot inside when you have the sun shining on it all day long.
But if you are a Supernatural fan then now an angel can prevent your car from getting that hot.
This car sun shade has Castiel on it with flames in the background and the Supernatural logo in a corner. Just keep this in front of you car window and it will block the sun from coming in and heating it up to much inside.
And when yo are ready to drive just fold the sun shade and Castiel will be ready for the next time you park.
You may also like: