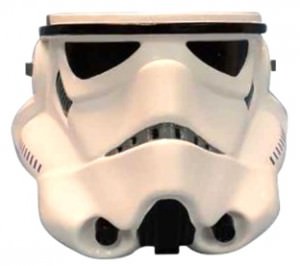 Have you protected your candy lately from the goodness of Luke Skywalker and his Star Wars alliance? You can now with your very own Stormtrooper Candy Bowl.
This black and white ceramic bowl is shaped like a Star Wars Stormtrooper's helmet and can hold anything you want really. It can hold snacks, pens and pencils or just air.
The stormtrooper candy bowl measures 8″ wide by 9″ long and 6.5″ tall. The storage opening is at the top of the helmet and it is made of ceramic.
Get your new piece of Star Wars memorabilia with this Ceramic Star Wars Stormtrooper Candy Bowl.