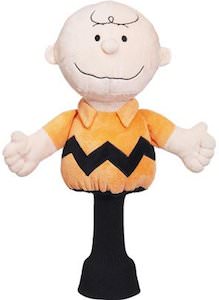 Charlie Brown will of course have an opinion about your golf game.
And when you get a Charlie Brown golf club head cover then he will be with you to support you every game you play.
This head cover is based on the Peanuts character Charlie Brown and he looks just like him complete with his yellow shirt and everything.
This Peanuts head cover has a black knit sock connected to it to make it protect more then just the head of the club.
And not only will Charlie Brown protect the golf club it will also makes it easier to find the right club.
Lets get ready to play a round of golf with your new Peanuts Charlie Brown Golf Club Head Cover.
You may also like: