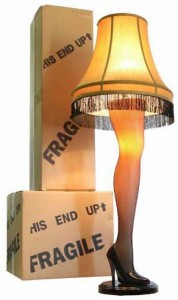 From the classic movie A Christmas Story this is a replica lamp that looks just like the one in the movie, the perfect gift for christmas or year round.
Features a women's sleek and sexy full leg with a black high heel shoe and black seethrough fishnet stocking all topped of with the perfect matching gold lamp shade that has black tassels hanging down.
This is a full size lamp that stands a total of 45 inches when put together, the lamp has a 3 way switch that will allow you to turn on just the lamp shade, just the leg lamp or have both on at the same time.
Make any room that much better with A Christmas Story Full Size 45″ Leg Lamp.