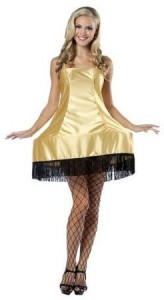 A Chrismas Story leg lamp is an iconic symbol for the classic movie, now you can look just like it for costume parties, halloween or whenever you feel it is appropriate to go out like a giant leg lamp.
This leg lamp costume features a gold colored dress that is in the shape of a lamp shade, complete with the black hanging tassels. Also the A Christmas Story leg lamp costume can be completed with a simple pair of fishnet stockings and black high heeled shoes.
It is a one size fits all adults which is approximately standard sizes 6 to 10.
Get a leg up in the costume competition with the A Christmas Story Leg Lamp Adult Costume.