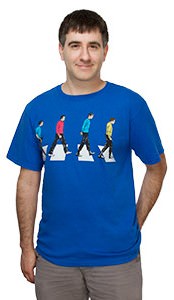 Now you can celebrate two iconic groups from the 1960's with one fabulous t-shirt.
This blue t-shirt features the images of four Star Trek characters, Kirk in his yellow shirt, Spock in his blue shirt, Scotty in his red shirt and Bones in his blue shirt, walking across a road at a crosswalk.
They are recreating the famous album cover Abbey Roads that shows the four Beatles, John, Ringo, Paul and George walking across a similar "zebra" crosswalk.
This t-shirt has short sleeves, a crew neck, is 100% cotton and comes in sizes Small – 2XL.
Don't be afraid to get a bit nostalgic when you wear this Star Trek Abbey Road T-shirt.