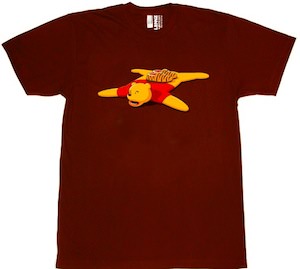 OK this picture is not for kids but it is kinda funny.
If you ever wonder what Christopher Robin would do with his animals then this could be a possibility.
On this brown t-shirt you can see that he made Winnie the Pooh into a carpet and Tigger into a pair of slippers.
Of course we all know that Tigger and Winnie are fine and still play in the woods everyday but this is a different perspective of what could be.
This Christopher Robin's Den t-shirt comes in a men and women's version with sizes from Small – 3XL and all show this morbid picture.
If you want to scare some people then come and get this Winnie The Pooh Christopher Robin's Den T-Shirt.