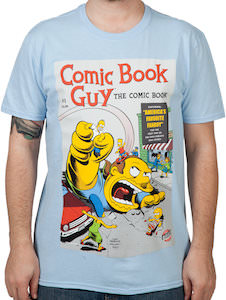 The Comic Book Guy is famous in Springfield as he is the guy that has all the cool comics and sells them for a price.
But this light blue t-shirt shows a new comic and it is the "Comic Book Guy The Comic Book" so he now seems to have his personal comic and based on the cover he really likes to chase the Simpson family and he seems like giant.
Either way this t-shirt is cool because it is from the Simpsons and shows the Comic Book Guy.
And this Simpsons t-shirt comes in sizes Small – 2XL and it's made from 100% cotton and it is tag less so no itchy neck when you wear this t-shirt .
You should come and have a closer look at this The Simpsons Comic Book Guy The Comic Book T-Shirt.
You may also like: