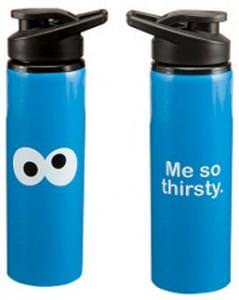 After all those cookies you must get very thirsty!
Have a look at this cool water bottle that features the fun and loveable Sesame Street characters Cookie Monster.
The bottle is all blue like Cookie Monster and one side has big googly eyes that are just like the googly eyes found on Cookie Monster, also on the other side of the water bottle find the quote "ME SO THIRSTY.".
Made from stainless steel this water bottle will be very durable and will last a long time, it also has a flip-top design for easy use and access, holds 24 ounces.
Get the reusable and recyclable Cookie Monster Stainless Steel Water Bottle.