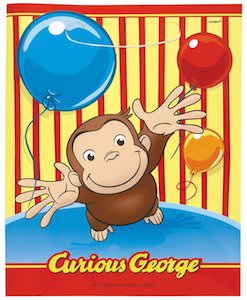 A Curious George party of course needs some fun party favors and those need a place to be stored in.
How about Curious George treat bags?
These bags comes in a pack of 8 and all have a picture of Curious George and fun balloons on it. Party favors loves to be in this bag and kids are gone love taking them home.
No plain paper bags for your party as now you found the perfect treat bag with the fun monkey Curious George on it.
Lets get this party started and when it's all over all the kids can enjoy they favors found in this Curious George Treat Bag.