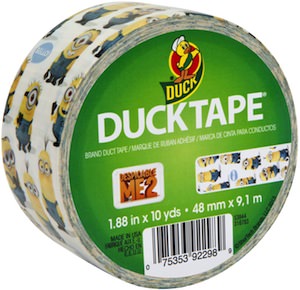 Minions are those helpful creatures from the Despicable Me movies and now they want to help you fix and decorate things with Minion Duck tape.
Just imagine the things you can do with Duck tape and now imagine that with fun tape that has Minions all over it.
This Despicable Me Duck tape is 1.88 inch wide and 10 yards long and that is a lot of tape you can use to decorate and fix things.
Just imagine that tear in your backpack it will be fun with a piece of Minion tape over it.
Now you can make anything look fun because Minions are fun and you can put this tape anywhere and it looks like fun.
So come and order you Despicable Me Minion Duck Tape.