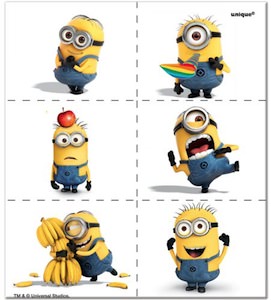 Minions are those funny helpers of Gru from the Despicable Me movies and now you can have one of those handy helpers as a tattoo on your body.
Of course these are temporary tattoos and will make you next birthday party a success.
These fun tattoos come 6 on a sheet and they come 4 sheets in a pack giving you 24 amazing Minion tattoos.
Kids are gone love to have a fun Minion on their bodies and that makes them just fun for a party or great as party favours.
I like the karate Minion myself so maybe a big guy can use them to 😉
Come and check out these Despicable Me Minion Temporary Tattoos.