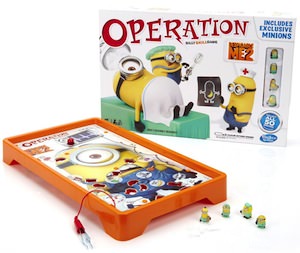 We all know the board game Operation but now there is a new and better version of it.
This is the Despicable Me Operation game with Stuart the Minion getting operated on.
Help the Minion get rid of some unicorn fluff and more strange things inside his body, just remember not to touch the sides as that will make the buzzer go off.
Besides being a classic Operation game it also has some exclusive Minion characters in the box to collect.
Despicable Me Minion Operation is a great way to learn to keep your hand still and to have a lot of fun with friends and family.
Come and have a closer look at this Despicable Me Minion Operation Board Game.