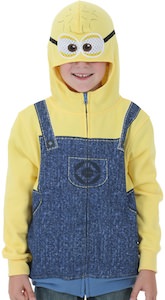 Kids will love you forever when you get them this amazing looking Despicable Me hoodie.
Yes it's not just a hoodie it's also like a costume as it will transform any child into a Minion.
This zip up hoodie is yellow with the blue coveralls printed on it and then there is the yellow hood that also becomes a mask when pulled all the way. Now instead of normal eyes you can give you  kid two Minion eyes.
This hoodie is just fun and functional at the same time. No more worries about what sweater to wear as kids just want to wear this fun hoodie.
And this Despicable Me Minion hoodie is available in kids sizes e 4 – 16 so that many young once can enjoy it.
Come and get ready to get the kids to become Gru's helper with this Despicable Me Minion Kids Costume Hoodie.