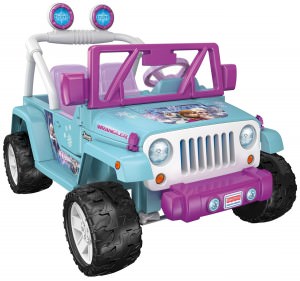 Disney Frozen has hit the road with a really cool set of wheels, a Jeep Wrangler.
Designed with many decals on a light icy blue color find an image of Olaf, Anna and Elsa on the front hood with "WRANGLER" decals that are purple and a purple front bumper and windshield bars this is colored to fit in the Disney Frozen movie.
This Jeep Wrangler is a Fisher-Price Power Wheels and features all of the details found on a real Jeep Wrangler with two doors that open, a large trunk compartment and roll bar, windshield and the trademark front grill with two round headlights.
Made to fit two childres the Frozen Jeep Includes a 12-volt battery with charger and has two forward speeds and one reverse speed.
Take a ride in the Disney Frozen Jeep Wrangler Power Wheels By Fisher-Price.