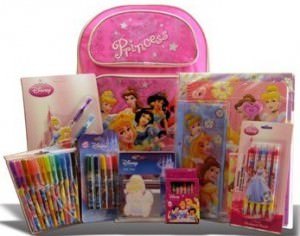 A princess deserves the entire royal package all together and ready.
This is a huge collection of stationary items and back to school supplies, featuring a backpack with all your favorite Disney Princesses decorating  all the supplies in colorful fashion.
The backpack is 16 inches and has a detachable case, other supplies inluded are an eraser, sharpener, ruler, pencil pouch, folder, markers, crayons, 5 mechanical pencils, 4 scented gel pens, glitter glue, 3 sticky notes, sandwich container, zip lock sandwich bags and snack bags.
Presented in beautifuly wrapped cellophane with colorful ribbons and bows.
Get this Disney Princess Backpack and Stationary Set.