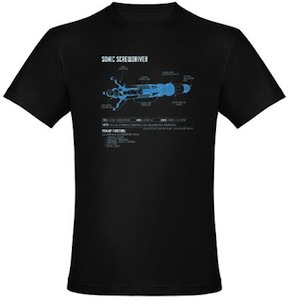 OK maybe the picture is not super clear but after you read this post you want to have a closer look so just click on the picture to see it up close.
This black t-shirt has a blueprint on it of the Sonic Srewdriver the Doctor uses.
So now you finally know how it all works and you can show the world this nifty time lord device.
A true Doctor Who fan would love a t-shirt like this and that makes it the perfect gift.
And this Doctor Who t-shirt comes in all kind of styles and sizes so men or women this shirt can fit you.
Come and have a much better view of this Doctor Who Sonic Screwdriver T-Shirt.
You may also like: