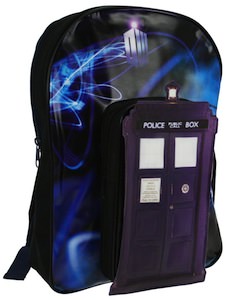 This is the backpack Doctor Who uses on his trips around the galaxy and time.
As you can see this of course a Tardis backpack and no it's not bigger on the inside.
This Doctor Who Packpack is 13.8 x 9.2 x 1.3 inch making it not huge.
But it would be great to store things like your tablet or ereader and some other things while going around town or work.
The Tardis front pocket makes it look like the Tardis is flying around in time and space just like we see it do on TV.
A real fan of the Doctor should not have to wait so just get your Doctor Who Tardis Backpack.
You may also like: