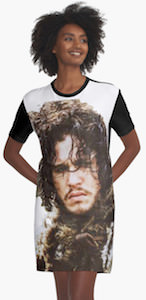 Game of Thrones fans can now wear a special Jon Snow dress so that the world know that you like him best from all the Game of Thrones characters.
This t-shirt style dress has short black sleeves and is black on the back as well. The front is white and shows a portrait of Jon Snow.
So simply wear this dress and everyone knows that you like Jon Snow.
You can get this Game of Thrones dress in women's sizes XSmall – 2XL and I am sure you going to love wearing it as it looks cool and is just as comfy as a normal t-shirt.
You may also like: