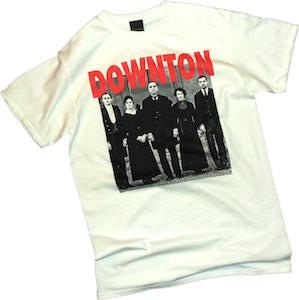 This Downton Abbey t-shirt shows 5 of the important staff members of Downton Abbey
There is William Mason, Miss O'Brien, Mr. Carson, Mrs. Hughes And Mr. Bates all in a row on a black and white picture that is printed on a white t-shirt and above that it says in red letters "Downton".
Of course we know that running Downton Abbey without these 5 would have been hard and that is why this is such an important t-shirt for a true fan to have.
This Downton Abbey t-shirt is made from 100% cotton and comes in sizes Small – 2XL.
Why not come take a closer look at this Downton Abbey Staff T-Shirt.