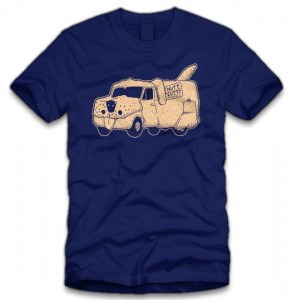 In the classic comedy movie Dumb and Dumber Lloyd quotes "Hey, chicks love it. It's a shaggin' wagon".
On the front of this t-shirt you will see the van that Lloyd Christmas and Harry Dunn drive as a buisness of Mutt Cutts, it is a van entirely covered in fur with a dog face and ears aswell as a tail.
The classic Dumb and Dumber t-shirt is available in a choice of 11 different fun and cool colors, it also comes in a wide variety of men's sizes that range from Small to 3XL and also comes in a women's cut.
Made to be durable and comfortable this Dumb and Dumber Mutt Cutts t-shirt.
Check out the Dumb And Dumber Mutt Cutts Shaggin Wagon T-Shirt.