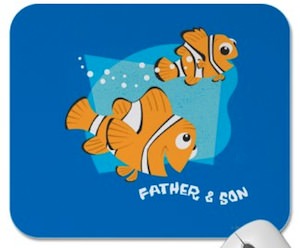 This mousepad shows Marlin and his son Nemo and the text "Father & Son".
Any one who knows the movie "Finding Nemo" will remember this scene just before Nemo got lost.
Now you can see this scene everytime you work at your computer.
Of course this mousepad make a perfect gift for dad to maybe for his birthday, father's day or another holiday.
This Finding Nemo mousepad has a non slip back so it does not move while you are using it.
Come have a closer look at this Finding Nemo Father & Son Mousepad.