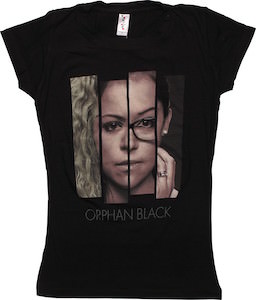 Orphan Black fans know that the clones look almost the same and now there is this t-shirt to prove it.
On this black women's t-shirt you can see a face and it it made up from pictures of 4 clones.
From left to right you see Helena, Sarah, Cosima and Rachel and all the parts of those 4 clones make a perfect face.
Ok the hair from blond to black and the glasses on just one eye may look strange but the picture is complete just that will show the world how much those clones are alike.
Below the picture you can see the words "Orphan Black".
This Orphan Black t-shirt comes in junior fit women's sizes Small – XL.
Orphan Black fans come check out this intriguing Orphan Black Four Face Orphan Women's T-Shirt.