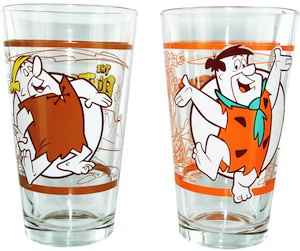 Do you like to drink with you cavemen budy?
If so then you should have a look at this fun set of two pint glasses based on the best cave friend out there Fred Flintstone and his friend Barney.
Each glass has on one side the Flintstones logo and on the other side a picture of Fred or Barney.
Besides this amazing art work the Fllintstones pint glasses are clear.
So ready to party? Start with order your set of Fred Flintstones And Barney Pint Glass Set.