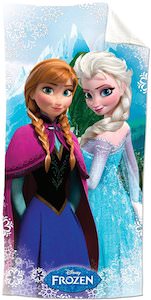 We all love to have a nice big towel when we get out of the tub, shower, when you go for a swim or just to lay on at the beach the beach sun tanning.
Well, if you are in need of a new towel you will love this beautiful Frozen snowflake Anna and Elsa towel.
This pretty Frozen Anna and Elsa towel features the beautiful Anna and Elsa standing next to each other on the front of the towel with the mountains in the background. At the bottom of the towel are multiple different shapes of snowflakes with "Disney Frozen" written in the centre of the snowflakes.
It is made of 100% cotton and is 28 inches by 58 inches in size.
Wrap yourself up after a nice hot bath in this beautiful Frozen Anna and Elsa Snowflake Towel.