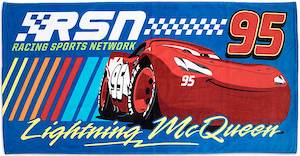 Now summer can't come soon enough because there is all this Lightning McQueen Beach Gear that is perfect for little fans of the Pixar Cars movies.
What is the most important thing you need when going to the beach?
Swim trunks and that is why there are these fun Lightning McQueen boy shorts.
As you can see the trunks look fun with the light blue color with lots of red details and stripes and to make it all great they added a great image of Lightning McQueen and his number 95. And these Cars swim shorts come in sizes 2 – 10 so that lots of cars can enjoy a pair. So come get your Cars Sim Trunk.
And after a swim you need a good towel and the Lightning McQueen towel that is what a true fan of Cars needs and as you can see above the towel is cool with the big image of the famous 95 racing car. And the Cars is towel is 29 x 59 inches and made from 100% cotton making it the perfect beach towel that also can used at home after a good shower or used at the local pool.
The beach is great but you need something to wear to walk to the lush sand and that is why there are these fun flip flops.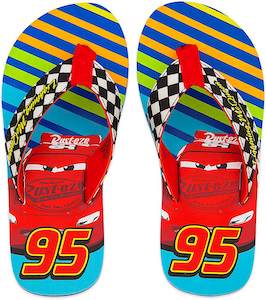 After Cars shorts and the towel you need matching footwear and that is why there are these fun Lightning McQueen flip flops that have cool checkered straps just like the checkered flag after a race and on the footbed you can find the same stripes as on the swim trunks and there is also an image of Lightning McQueen and on top of it his car number 95 on top of it.
You can get these fun Cars flip flops in lots of kids sizes so that there is the perfect fit for you.
So now you have found the perfect beach gear for a bit fan of Cars fans and just click on the picture of the other links in this post to find the products so that you can have a better look and looks at all the options available.