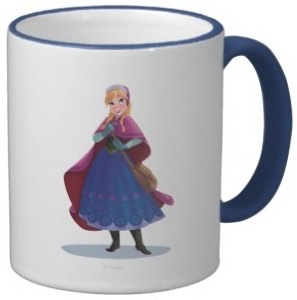 There is Anna in her blue dress and purple coat just like we remember her by from the Disney movie Frozen.
This coffee mug is available in two sizes 11 and 15 oz and has some fun details. The Frozen mug is white and a colored handle and rim and of course Anna and you can even find Anna twice on this mug so that you and you friends can see it at the same time.
A fun mug like this is great for kids that are gone use their first real mug but it's also great for adults. People are gone smile when they see this mug on your desk at work.
Frozen fans come and check out this Frozen Anna Mug.