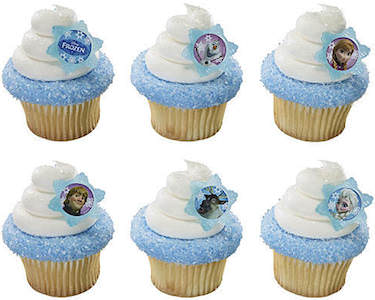 A Frozen birthday party that has cupcakes need some fun themed cupcake rings.
Luckily for you there are special Frozen cupcake rings.
These cupcake rings come in a pack of 24 and have 6 different designs.
The rings are shaped like a snowflake and can have a picture of Sven, Hans, Anna, Olaf, Elsa or the Frozen logo.
Not only are these rings a great and simple way to make a normal cupcake look like a Frozen cupcake they are also great for the kids to play with and to collect.
So don't think about having a Frozen party without these Frozen Cupcake Rings.