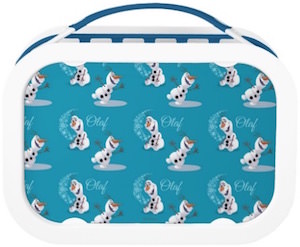 Looking for the perfect Frozen lunch box that is great for kids and for adults to?
This lunch box can be the one. The lunch box is safe to put in the dishwasher (excluding the faceplates) and that is easy on the parents and it has Olaf on the front in back in all kind of poses and that is great for the kids.
And this Frozen lunch box comes with and icepack, sandwich container and two small container that all fits perfectly inside the Olaf lunch box. And there are more accessories for this lunch box available. There is a bottle holder that goes on the outside and different sized boxes for inside so that you can build the perfect lunch box for lunch.
So if you want the perfect lunch box with Olaf on it then come get this Frozen Olaf Lunch Box.