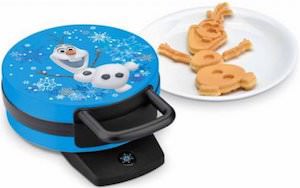 Olaf definitely is my favorite character from the Frozen movie. I like Olaf so much that I would love to do breakfast with him.
And now you can't just do breakfast with Olaf you can actually eat him as this is a waffle maker that makes Olaf Waffles.
Just put the waffle mix into this waffle maker and soon a yummy Olaf will come out ready to be eaten with you favorite toppings.
The Olaf waffle made by this waffle maker is not one big Olaf, he comes in piece and has to be build just like a real snowman.
Kids your and old will love some Olaf Waffles and that is why you want to get this Frozen Olaf The Snowman Waffle Maker.