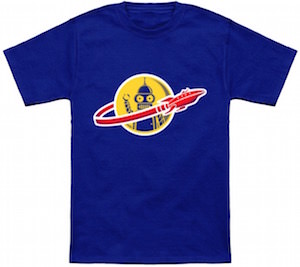 This Futurama t-shirt maybe a bit different then what you normally see but that makes it more fun and different.
You can get this t-shirt in some dark colors but the blue on the picture definitely is my favorite. And this t-shirt comes in many styles for kids, women and men and yes lots of sizes going from tiny for kids to 6XL for the bigger males.
And on this t-shirt you can see a yellow round with in it Bender but the robot seem to look a bit like a LEGO figure and around the yellow globe there is a space ship flying and it looks like the Planet Express but this time it is red.
So if you are looking for a cool Futurama t-shirt that is fun then come see this Futurama Bender And The Space Ship T-Shirt.