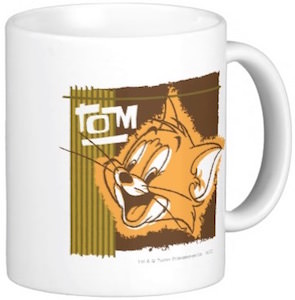 Are you a fan of classic cartoons?
If you like Tom and Jerry then you are gone love this mug.
On this white mug you can see an image of a happy Tom the cat, you almost believe that he finally was able to catch Jerry but we know that this would never happen.
The picture also has it's name and a fun background to give you that special cartoon look.
The mug comes in 11 or 15 oz and is dishwasher and microwave safe so that it can become your everyday mug pretty quickly.
Home or work all can use a fun mug so why not get this Tom And Jerry Mug With Happy Tom.