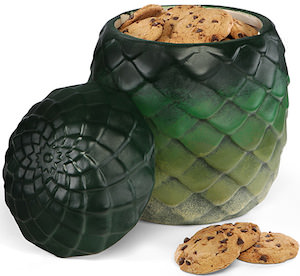 Remember the dragon eggs from Game of Thrones?
Now you can have your own dragon egg but it's not really an egg that hold dragons it holds cookies and if I had to choose then cookies I would prefer above dragons.
This cookie jar is modelled after the dragon egg of the TV series and is made from hand painted ceramic.
The dragon egg cookie jar is about 9 1/4″ tall and 6″ wide and that leave plenty of room for cookies.
And besides cookie can you just imagine how this dragon egg will look on your bookshelf?
Time to feed some hungry dragon with cookies out of this Game of Thrones Dragon Egg Cookie Jar.