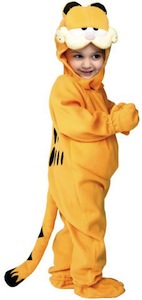 When dress up time comes you really want to look different then you normally do.
And now you can look like Garfield the fun and strange orange cat.
This Garfield costume comes in a range of toddler and kids sizes.
Now you can dress up for Halloween or any other dress up day and play Garfield the cat.
The Garfield costume includes a jumpsuite, mits, headpiece and foot covers.
Get ready to be Garfield with this Garfield Toddler And Kids Costume.