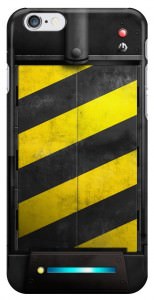 If you have a ghost problem there is no doubt in my mind that you will call the Ghostbusters, but what are you going to do to protect the phone that needs to make that ever important phone call?
How about this awesome iPhone case that features the look of a Ghostbusters ghost trap as seen in the popular movie of Ghostbusters. It has the diagonal yellow caution stripes and sensor light decals to look like the ghost traps.
This Ghostbusters case is available in the Apple devices as follows:
iPhone 6 Plus
iPhone 6
iPhone 5s
iPhone 5c
iPhone 5
iPhone 4S
iPhone 4
Each of these cases are made to specifically fit it's device perfectly leaving all ports and buttons open for use while also protecting from scrathches, dents and bumps.
Check out the Ghostbusters Ghost Trap iPhone Case.