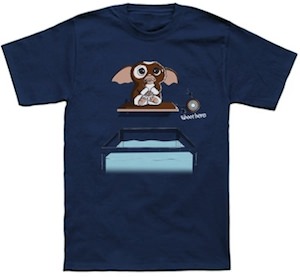 We all know that Gizmo should be kept dry no matter what.
If you don't then he will turn into a monster.
So on this Gremlins t-shirt you can see Gizmo sitting on a little shelve above a tank of water and on the wall there is a button that says "Shoot here" and we all know what happens when you do. And if you look into Gizmo's eyes then you know that he also is aware of the situation.
This Gremlins t-shirt comes in a women's and men's fit in the colors black and navy blue. And this t-shirt comes in sizes Small – 6Xl and is made from soft 100% cotton that is preshrunk to just incase you get wet.
Help save Gizmo and start by wearing this Gremlins Gizmo Bad Job T-Shirt.