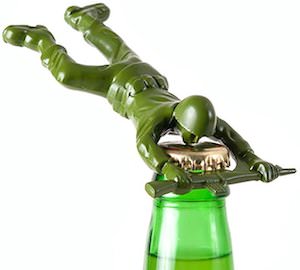 It's doesn't matter if you like green soldiers because of Toy Story or because they are just cool green soldiers.
Even though Andy's green soldiers where made from plastic this one is made from die cast metal and is ready to fight with any bottle.
This green soldier is a bottle opener. Just like the soldier craws on the ground that is how he catches the bottle cap.
It's great to have this soldier lying around so that when a bottle of pop, beer or other drinks need to be opened then he is ready to come in action just like a real soldier.
Toy Story fans should check out this Toy Story Green Army Man Bottle Opener.