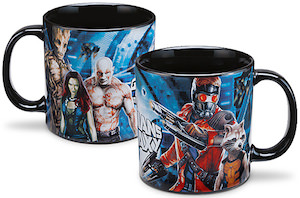 This ceramic mug will make your morning coffee more exciting.
The mug is 20oz and has a black inside color and a black handle and the rest of the mud is covered in the Guardians of the Galaxy.
Besides the logo of this Marvel movie you can also find Groot, Star-Lord, Rocket Raccoon, Drax and Gamora on the mug.
And besides coffee this mug also loves water, tea, juice and maybe even a mug cake as it is microwave and dishwasher safe.
Just imagine using this mug at work instead of those stupid paper cups. For sure you will be the owner of the coolest mug at work.
So do not wait any longer, just come get your Marvel Guardians of the Galaxy Mug.