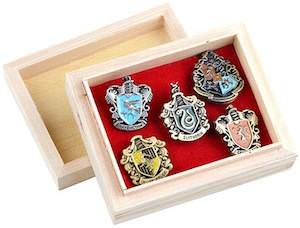 Harry Potter fans are gone love this item. This makes the perfect gift for a real Harry Potter fan.
This is  set of 5 pins stored in a nice wooden box with the Hogwarts crest on it.
The pins are the crests of Hogwarts, Gryffindor, Hufflepuff, Ravenclaw and Slytherin.
Even if you don't want to wear all these pins this set is a great item to add to any Harry Potter collection.
And to make it even better this whole set cost less then 10 dollars and that is including world wide free shipping.
Keep enjoying Harry Potter with this Harry Potter Hogwarts Houses Pin Set.