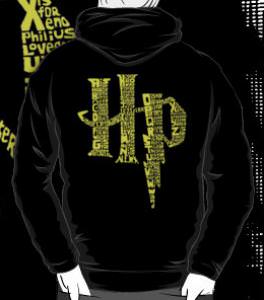 The wizarding world of Harry Potter has many sayings, characters and cool associations that you might say there is one for every letter of the alphabet.
This is a super cool hoodie that features the awesome Harry Potter logo "HP", this logo is made up of the entire alphabet and a saying to go along with each letter, examples: A is for Auror, B is for Butterbeer, C is for Crookshanks and so on down the alphabet.
A very durable and extremely comfortable hoodie that has a full zipper front and 2 pockets, this Harry Potter A to Z hoodie can be found in sizes Small, Medium, Large, XLarge, 2XLarge and is available in 7 different colors. With the option to have the print on the front or the back.
Also check out the many styles of shirts you can get this printed on, womens t-shirts, men's t-shirts, slip on hoodies and more.
Get this Harry Potter A to Z Hoodie.