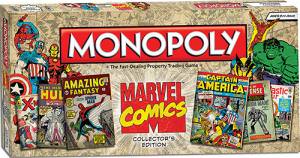 Bring Monopoly to a new superhero level!
This is a really cool board game that is just like your regular Monopoly game but with a little twist, instead of building houses and hotels you get to move your favorite superhero around and try to buy, sell, and trade the most valuable comic books ever published by Marvel Comics.
Included superhero game pieces are Thor, Spider-Man, Hulk, Captain America, Iron Man and many more fun and cool other Marvel characters, this is a classic game that is collectable for any Marvel fan.
Get your very own Marvel Comics Monopoly.