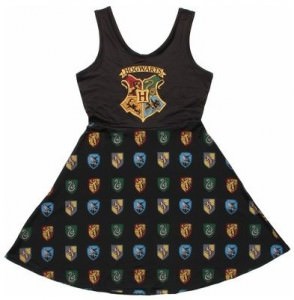 Harry Potter and the School of Witchcraft and Wizardry has many games and events to challenge their young wizards, support the school with a super cute dress.
The top of this dress features a tank style top that is all black and has a large scoop neck with the Hogwarts School of Witchcraft and Wizardry logo from the awesome series of movies Harry Potter. The mini skirt is flared out and has a series of multiple logos of all the different houses of Hogwarts, Gryffindor, Hufflepuff, Ravenclaw and Slytherin.
Made to be very comfortable and perfect for any occasion this Hogwarts A line dress is available in women's sizes that range from Small to XL.
Show off your house pride in the Harry Potter Hogwarts Scoop Neck Dress.