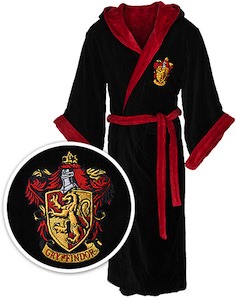 Now you can get your own Harry Potter bath robe.
There are 4 version after the for houses in Hogwarts.
You can get a:
Gryffindor
Hufflepuff
Ravenclaw
Slytherin
Version and each are black with a lining and edges in the house color and a big crest on the front.
The Harry Potter bath robe is one size fits mosts. It fits a waist up to 55 inch and is 55 inch tall with 20 inch long sleeves.
Now you can be all comfortable in your 100% cotton bath robe while you are rereading Harry Potter.
Come check out all the versions of the Harry Potter Bath Robes.