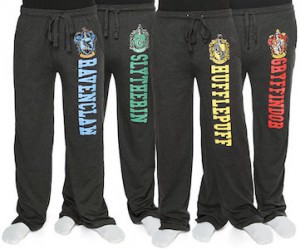 Harry Potter fans will love these lounge pants.
You can choose between 4 different designs and these Harry Potter pants are unisex so men and women both can enjoy this amazing gear.
So what do you get? These are dark grey lounge pants with 2 pockets and elastic waistband with a string to get them to fit the way you like. And on the left leg (when you wear the) you have the logo and name of the house the sorting hat send you to.
These pants come in a Ravenclaw, Hufflepuff, Gryffindor and Slytherin version for all the house in Hogwarts.
And these lounge pants are available in a wide range of sizes from Small – 2XL and if that doesn't fit then a little bit of Harry Potter magic will make the into the right size.
Surprise yourself or a friend with the favorite Harry Potter House Lounge Pants.