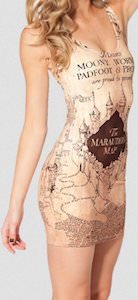 Always wanted to be part of the Harry Potter stories?
Now you can as by wearing this dress you will become the Maurder's Map and a big part of the story.
This Harry Potter dress is fitting and a tank top style so no sleeves and following your curves. And on the dress you will find the Maurder's Map on the front and back. Of course this one will not tell you where everyone is but still pretty cool.
And this dress is great as a costume to specially because the Maurder's Map dress is almost like skin color making you the map.
Harry Potter fan that are looking for a special dress or amazing costume just need to check out this Harry Potter Maurder's Map Dress.