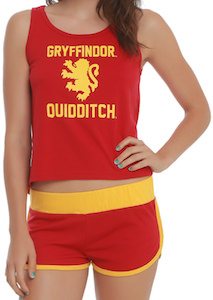 Are you still dreaming about Harry Potter at night?
Maybe this sleep set will make you dream even more about Harry winning at Quidditch.
This red pajama set is great for summer as it comes with a pair of red shorts with yellow trim and waistband and a red tank top with on it the words "Gryffindor Quidditch" with the famous lion on the front and on the back it says "Potter 07".
Just imagine lounging around the house in this fun sleep set on a warm summer day.
And you can get this Harry Potter sleepwear in junior sizes Small – XLarge.
Harry Potter fans that need a nap should check out this Harry Potter Quidditch Women's Sleep Set.