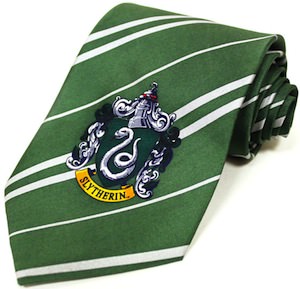 Do you want to dress up like Draco Malfoy?
If so then you will need this necktie.
This green 100% silk tie is green and shows the house crest of the Slytherin house on it.
As all kids in Hogwarts they wear the necktie of their house.
So Malfoy is in the Slytherin house so he wears the Slytherin necktie.
A true Harry Potter fan of course collects all the ties from Harry Potter so also this one.
Come and have  closer look at this Harry Potter Slytherin Necktie.