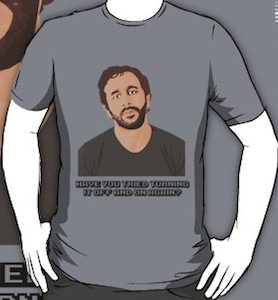 Roy Trennenman is not the most motivated employee from the IT department at Reynholm Industries.
But still Roy's picture made it on to this t-shirt.
Maybe it is because of his super sollution for fixing any problem over the phone by saying "Have You Tried Turning It Off And On Again" for sure this is the most used line in the TV series IT Crowd.
And because it is so funny and so oftenly used in IT Crowd you just want to own a shirt like this.
Of course if you are a tech geek who get asked for help all the time this could be the perfect shirt for you.
But it is of course not just the text on this t-shirt. The picture of Roy is just as important and you can see right away what kind of person Roy Trennenman is just by looking at it.
And if you are not as boring as Roy then maybe you don't like grey, if so then no worries you can choose from the 20 other color this t-shirt comes in.
If you enjoyed IT Crowd as much as I did then you just should go and get your own IT Crowd Have You Tried Turning It Off And On Again T-Shirt.